---
Alternative wedding dresses and vintage gowns

by Vendetta Couture
Vendetta Couture's wedding dresses and gowns are a creative alternative to conventional wedding dresses and can give any bride that je ne sais quoi they look for to help give their wedding day those special memories that can last forever and ever.
---
---
Creative alternative weddings
Vendetta Couture's reputation is based on the quality of our clothing and the personal service we provide to our customers. We believe in keeping you informed at all times about the progress of your alternative wedding dress and we always try our best to cater for your individual needs and requirements, whatever they are.
More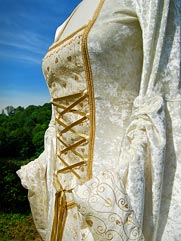 Individual hand made bridal gowns
Vendetta Couture wants it's customers to be happy and recommend us to your friends. The only way we know how to do this is to create the best wedding dress we can, providing you with a quality of service you just can't get from larger design houses.
From conception to design, at Vendetta Couture we are committed to making you the best wedding dress or gown we can and get it to you without any worries or hassles.
Alternative bridal wear
Vendetta Couture create elegant style wedding dresses and gowns using a range of quality fabrics, braids and trims, to make medieval, renaissance, victorian and fairytale inspired dresses and gowns and other clothing in a range of colours and options to give your wedding day that alternative style and flair.
More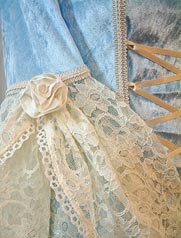 Elegant and creative alternative wedding dresses
A dress or gown from Vendetta Couture is a unique alternative for any bride that can be tailored for your own individual wedding.
Vendetta Couture wants you to feel special and we aim to provide you with the great feeling you get wearing one of our elegant bridal gowns or dresses.
Wedding gowns just for you
The majority of Vendetta Couture's wedding dresses are made to measure. We will always try and customise and adapt our designs to the bride's individual requirements and provide them with the best possible bridal wear service so that your wedding is as special as you are hoping it will be.
More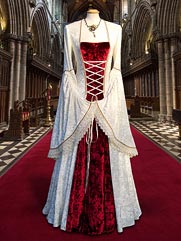 Custom made wedding dresses
Most of our customers provide us with a range of measurements and we then take these and make a custom made to measure wedding dress or gown exactly for them.
We also provide a size based service for those who perhaps do not know the exact measurements of the customer (someone buying a surprise present for example) and we also have a limited number of ready to wear garments, in specific sizes, available through this website.
---
Timeless designs, lovingly handmade by an experienced artisan